Finding Middle Ground
When: May 17th 8am-1:45pm
Location: UCA Downtown - 1105 W Oak St. Conway, Arkansas
4 hours approved LA CES HSW Continuing Education Credits
Schedule as follows:
8:00am -Event check-in

8:15-8:30am -Ex Comm Update to Members with Q/A session

8:30-9:30am -Melissa Evans and John Scott - Compromise in the City; to preserve or not to preserve.

15 Minute Break

9:45-10:45am -William Sunquist

10 min break

10:55-11:55am -Julie Luther Kelso

Lunch 11:55-12:45

12-45-1:45pm- James P. Walden
A non-ASLA sanctioned camping trip will follow the Symposium. Camping will take place at Tyler Bend on the Buffalo River with canoeing to follow on the 18th.
With nearly 15 years of experience in the commercial construction industry, William Sundquist has presented to landscape architects, architects, designers, engineers and contractors as part of the ASLA/AIA/ASID CEU educational series.
William earned his Bachelor of Science in Public Relations from Georgia Southern University in 2001. Since graduating from college, he has worked in various architectural and management roles in the United States and is currently the southwest regional sales manager for Whitacre Greer clay pavers.
Regarding the Construction Specification Institute (CSI), Mr. Sundquist currently serves on the Institute Board and has served in various chapter and region leadership position. In addition, he has served as an allied board member with the East Tennessee Chapter of AIA and participated with ASID, AGC, ABC and ETMA; all construction-based organizations.
In his home town of Chattanooga, TN, William serves on the University of Tennessee Chattanooga Interior Design School Advisory Board, City of Chattanooga Public Library Board, past chair of the Friends of the Chattanooga Public Library Council and past president of Friends of Tennessee Libraries.
William also serves the brick industry as the second vice chair to the Brick Industry of American (BIA) Landscape Paving Council. While working on many projects throughout his career he was extremely honored to provide the bricks and work with the University of Tennessee on the Neyland Stadium renovation project.
In his spare time William likes to fly airplanes and travel. William's family currently all live in Texas, Florida and California.

Julie Luther Kelso, AICP, ASLA
Vice President of Planning
Julie Luther Kelso is the Vice President of Planning at Crafton Tull's Little Rock office. Specializing in municipal work, her areas of expertise include large-scale comprehensive plans, bicycle and pedestrian plans, and parks system master plans, as well as site-specific projects such as corridor redevelopment, trail design, and campus planning projects.
A graduate of the University of Arkansas's Landscape Architecture program, Julie's work in planning and urban design spans 20 years, including projects across the United States with a focus in Arkansas, Oklahoma, and Texas. She strives to plan and design spaces that respect and reflect a community's values, heritage, and aspirations.
Julie is a member of the American Institute of Certified Planners as well as the Congress for New Urbanism, and is a licensed Landscape Architect in Arkansas and Texas. She has managed numerous award-winning projects varying in scale from a few city blocks to several counties.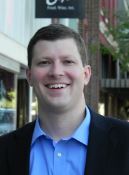 James Walden is the Director of Planning and Development at the City of Conway. At Conway, James directs all activities of the city's development review, long range planning, and GIS services.
Prior to becoming the Conway Planning Director, James served as a consultant providing a comprehensive range of planning services to cities in Arkansas, while specializing in rural and small city comprehensive planning, neighborhood services, and downtown planning. He was awarded for his work on Walk Bike Drive Bryant Transportation plan by the Arkansas Chapter of the American Planning Association.
His work included projects in over 50 cities across the states of Arkansas and Alabama. James received a Bachelor of Arts in Geography and Anthropology from the University of Arkansas, and a Master's in Public Administration from the University of Arkansas at Little Rock with a special emphasis in public policy analysis.
He utilized his coursework to focus on planning issues such as land use fiscalization, inclusionary zoning, induced travel demand, and neighborhood regeneration.
He is the current vice president of the Arkansas Chapter of the American Planning Association, and has received national certification through the American Institute of Certified Planners.
John Scott & Melissa Evans, City of Fayetteville Urban Foresters
Melissa Evans and John Scott are Urban Foresters for the City of Fayetteville. They review most projects that go through the development review process with the City. They make sure all projects comply with Tree Preservation and Protection Code, and the Landscape Regulations. They both participate in public outreach events that focus on the importance of trees and landscape architecture.
John is the current President of the Arkansas Chapter of American Society of Landscape Architects and Melissa is the Trustee for Arkansas ASLA.
Melissa's experience has been primarily with commercial and institutional site development along with various residential garden design projects. She has taught a Construction II Materials & Methods class, an AutoCAD class and assisted teaching Design V at the University of Arkansas Landscape Architecture Department. Melissa has also taught a Landscape Design AutoCAD class at Northwest Arkansas Community College. Her goal is to work on infill projects which make a positive difference in the community and other communities, and to help students discover landscape architecture through involvement with ASLA and teaching.
Melissa received a Bachelor or Landscape Architecture from the University of Arkansas. She enjoys being a Mom, gardening, and looking at trees. Melissa is a Certified Arborist and licensed Landscape Architect.
John Scott has been an Urban Forester for 3 years and expanded the role of Urban Forester to include numerous public outreach events. He also developed a calculator for developers to use when calculation tree mitigation requirements. Urban Forestry at the City of Fayetteville has won program of the year from Arkansas Parks and Recreation Association twice under John's leadership. The City also won a grant for planting wildflowers in medians and he was awarded Outstanding Professional from the Arkansas Urban Forestry Council.
John received a master's degree in Regional and Community Planning from Kansas State University and a Bachelor of Landscape Architecture from the University of Arkansas. John enjoys painting, listening to music and hiking when he is not talking about trees. He is also a Certified Arborist.